Cazenovia, NY— The Salty Chimps showed up to race both days of the first CX race of the year during the Syracuse Bicycle CX weekend hosted on the campus of Empire Brewing Co. Scott Stewart, Ken Hammond, Rob Chimento, and Ben Rabin all tackled a tough and technical course, laid out by Tim O'Shea, coach of Pointway Performance
Being new to Masters, I didn't have the call up points, so I started in the 2nd row. On the fast, long straight from the start I was able to move up to about 10th by the first corner. I gassed it out of the turns and onto the next straight to pass guys. Started spreading out a bit halfway through the first lap. Through the mud section up by the road, I lost momentum and tipped over into the weeds. I was pissed. Got on and clawed places back by the end of the lap.

On the final lap, I passed a rider from Pete's wheels and got a gap on him until I hit a hill, stood up, and, BANG! No more go. Blew my chain apart, FML as I stood there staring at the bike, piece of shit. He yells at me as he passes— "start running!" So I grabbed the chain, threw it in my pocket, and started running. I ran the flats and uphills, and rode the downhills, which is sketchy with no chain and being clipped in. Made it to the pit, threw a new speed-link on, and chased some guys down to finish without knowing how many others beat me. Ended up 3rd place in the Masters 35+. It was a fun course, with some great competition.

Scott Stewart
In the Fat Bike category, Ben had a hotly contested race for the podium and was also treated to his share of mechanical issues.
We battled back and forth for the entire race, fighting it out in a final sprint that was so close we did some hard bumping and fighting for position in the final turn. I got him by just a couple feet.

Had to race the third lap with a broken seat clamp. The saddle angled up about 20 degrees. That was not easy.

Ben Rabin
Ken entered both the CAT 4/5 race and the Master's, and kept up the team's trend of mechanical problems, specifically, the drivetrain…
Half way through lap one I dropped the chain to the inside and went from a comfortable fourth place to 11th, then in same spot on lap two I dropped it again, to the outside and lost any chance. Ended fifth of seven in CAT 4, and 12th in the combined field.

In the Masters race I was doing well racing with Bryan Blake and Faso, and broke a chain 100ft after the pit. Had to run the long pond section. The entire thing.

Ken Hammond
Investigations into sabotage are currently underway. Finally, capping off the teams issues for the day, Rob took the top step of the problem podium with an unfortunate crash early on in the race, which lead to some digital dislocation.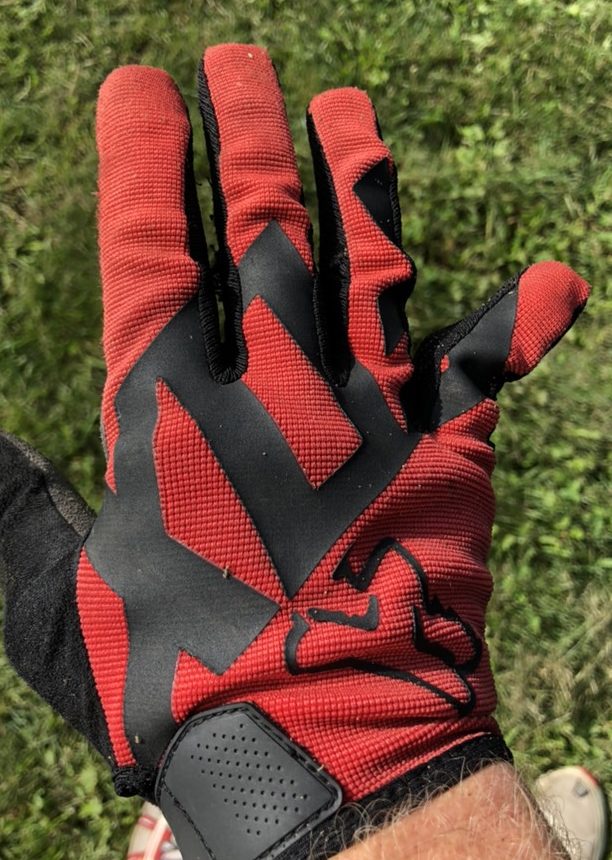 It was just one of the first grass turns that I took too hot and slid out. Grass was slick. I was lined up way in back, since I didn't race last year, and was trying to get around traffic.

I actually did jump back on and then realized something felt odd.

Went to the ER, they asked me if I had a helmet on! I told them my finger is the issue…

Rob Chimento